FESTIVAL OF BAROQUE ARTS
Praha - Český Krumlov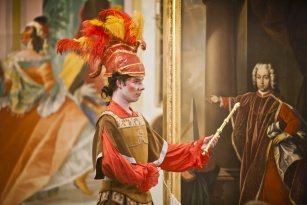 Foto: Ladislav Pouzar
Gala concert, 15.9.2012, Hof-Musici
The Český Krumlov Baroque Arts Festival come intro being through a combination of circumstances in 2008 in Český Krumlov.
The foundation stone was the then 15 years´ experience with research and interpretation in the field of Baroque opera, gathered by the international Baroque orchestra Hof-Musici under leadership of Ondřej Macek.
The goal of the festival is to liven up the historical town of Český Krumlov with a variety of art forms from baroque times, it takes place at the end of the Český Krumlov summer music festival season - September.
The dramaturgy of the festival puts the main emphasis on connecting the authentic venues with adequate forms of period art (liturgical music in the castle chapel or the monastery church, baroque dance in the Masquerade Hall, chamber concerts in the Mirror hall or Gothic Hall etc.)
Foto: Ladislav Pouzar
Gala concert, 15.9.2012, Hof-Musici
Every year the major event is of course the presentation of the world premiere of an especially chosen Baroque opera in The Baroque Theatre of Český Krumlov castle.